Mr. Snuggle Bunny's News In Briefs - 12/30/2004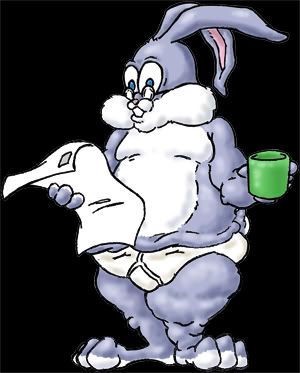 Busy time of the year for me, so posting has been sporadic at best, but that does not keep interesting things from happening.
Curious Doings At the Pentagon
It seems a Pentagon staffer that defended the President in the run up to the election by claiming Saddam's WMD were moved has lost his job.
What is curious about this is how it should play against the "Bush lied" moonbats. If Bush did lie, why would he fire a staffer that reinforces his story for him?
My guess is this poor fellow was either dismissed for improper procedures without regard to how it helped his bosses politically (that's called ethics, you liberals) or he really was downsized.
Still, it does much to damage the credibility of the WMD-were-just-a-hoax-to-justify-a-war-for-Halliburton crowd, but I don't think they're paying that close attention.
We'll see if this gets media play. Usually whistleblowers that fired also get primo coverage on shows like 60 Minutes. However, seeing ast this guy is saying "Bush was right; Saddam did have WMD" I'm guessing this one will be overlooked in favor of the next flu vaccine non-shortage.
Al Quaeda Is (Body) Counting On Your Support
AP runs a story about the casualties in Iraq. It's all very sad, and I hate seeing any soldier wounded or killed but numbers do not mitigate the rightness or wrongness of the cause at hand and I've said as much before.
One point I would like to disagree on is:
"The prospects in Iraq are grim," Dan Goure, an analyst at the private Lexington Institute think tank in Washington, said Thursday. He assessed the conflict as a standoff, with no clear indication that either side will achieve victory in the coming year.

"Neither side can truly come to grips with the other so far and defeat them," Goure said.
Granted, this prediction is only for the coming year, but I wonder how anyone can entertain the notion of a victory for the terrorists unless the US abandons the mission, which judging from the results of this past Nov. 2nd won't even come close to happening for another 4 years.
The terrorists are a minority of the Sunni population which are themselves only 20% of the overall Iraqi population, although many of the terrorists are in fact foreigners. Furthermore, it seems that after this brush with freedom most Iraqis would not surrender themselves back into the hands of dictators without a fight, with or without the help of the US. Things have been set in motion and they will not be undone without total moral failure on the part of the US and strong outside influence from some nation such as a fearful Iran or a spiteful France.
Still, the object of the story is clear: we're all supposed to go around wringing our hands wondering how we're going to extract ourselves from this horrible mess we seem to have so foolishly gotten ourselves into. Apparently leaving murderous thugs to their own devises is the only way to save ourselves. The logic of that assumption escapes me but then again I am only a simple snuggle bunny.
Of course one thing I am waiting to see is some intrepid reporter ask the terrorists, "With the number of insurgents killed in fighting against Coalition forces, sometimes in ratios of 50 for every Coalition casualty, with scores more wounded; have the insurgents started a war they cannot finish? What is their exit strategy? Can they truly hope to bring change to a regime as ideologically driven as that of George Bush?" But I guess such questions are reserved only for us.
Tiny Minds Adrift In A Big World
Certain Muzzlims are so upset that the National Geographic World Atlas has referred to the Persian Gulf as the Arab Gulf. These beleagured souls are so upset they took to spamming the Amazon.com book review.
Look, there are Persians living on one side and Arabs living on the other side of the gulf. You guys have to take turns calling it yours.
Besides, when we tried to call it The Gulf Surrounded By Crazy Bastards, the Ladies' Church Auxillary complained so...
(Hat tip: James Bond at the Protest Warrior forums)
See y'all next year.