As Awkward As Meeting An Ex-Girlfriend At An Orgy
[Rod Serling impression]
Picture if you will, the bizarre, the horrifying and what could have been a geo-political nightmare.
Imagine John Kerry elected President of the United States attempting to make good on his numerous mutually-exclusive campaign promises to more effectively prosecute the war in Iraq so as to return the troops as quickly as possible.
Now imagine it is time to prosecute Saddam Hussein and the prosecution must also be concluded successfully lest the old tyrant escape justice and further inspire the terrorists that the good old days of Ba'athist rule can be revived. But...
Horror upon horrors we learn that
Ramsey Clarke has joined Saddam's legal defense team
.
Why would this matter so much? Why would it be an embarrassment for the Kerry administration?
[/Rod Serling impresion]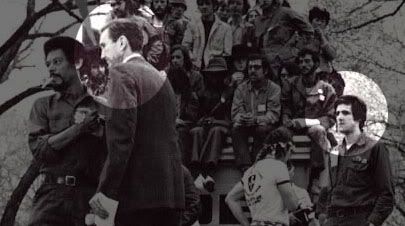 For those of you who went to public schools, or worse, went on to college, the guy on the left (no pun intended) is Ramsey Clarke, the guy on the right is John "There's Got To Be A Rich Chick Around Here Somewhere" Kerry; the event is an anti-war protest.
It would be hard for Pres. Kerry to be so opposed to a man with whom he shared so much on common ideological grounds in order to have Saddam hung at all costs. Could Kerry, with his "Global Tests" and hydrophobic-like fear of US sovereignty stand up to an old "comrade" that says, "Occupation of Iraq is in itself an international crime."
Methinks 51% of the US population underestimates the disaster they helped to avert on Nov. 2nd, 2004; unfortunately 48% still wish that disaster had happened.