Mr. Snuggle Bunny's News In Briefs - 01/25/05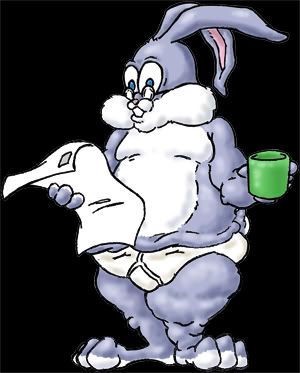 It's Called "Chutzpah"
The War on Terror continues in Europe. The Chutzpah part?
German police yesterday arrested two suspected al-Qaida members believed to have plotted a suicide attack in Iraq — with a side venture in insurance fraud, taking out a policy on the suicide bomber to use the money to fund the terror organization.
A million dollar policy at that.
Since We're Talking About Al-Quaeda Operating in Iraq...
Al-Zarqawi confirms that this is in fact a battle of pro-freedom forces against autocratic dictatorship.
Still a bad day for him. Al Zarqawi's bomb-maker was snatched up by US forces. He confessed to making 75% of the bombs detonated in Baghdad, that's 32 bombs.
Funny, but the MSM made it seem like so many more...
Since We're Talking About Media Distortion...
World renown blogger Chrenkoff tallies the positive and negative stories about the war. Anyone wanna lay odds which received more coverage?
Apparently some in the media bristle at the suggestion that they're tools of the jihadi machine. Nevermind the fact Reuters refuses to use the term teorrists or that the media gives the terrorists all the press coverage the terrorists need. You see the murder and mayhem are merely tools for getting media attention. Without those two elements conjoined terror would fail as a means of achieving political ends.
Still, Derek Rose is getting all pissy that Lt Col. Tim Ryan laid out the beat-down ownage on the MSM's quasi-sedition. He's still harboring a grudge that hte US military has issued false press releases to misinform the terrorists in Fallujah as to the timing of our assault. I doubt Mr. Rose doesn't want the Pentagon to create a total media blackout in Iraq so I'm thinking that maybe the only news of troop maneuvers he wants reported are factual. Again, it is this sort of thinking makes us wonder which side the MSM is rooting for. His rebuttal to the charge of the MSM refusing to write positive stories consists of, "I goggled for positive news and couldn't find any ergo all news must be bad." Did Mr. Rose move amongst fellow journalists and gauge them for bias, or their editorial boards or propaganda planted by terrorists? Nope. Google is good enough.
Since We're Talking About Snivelling Whiners...
Even the French find being French is depressing. From The Scotsman:
IT IS official: the French are a nation of depressed pessimists, wracked with self-doubt and unable to see a positive future.

This gloomy portrait of the current state of Gallic morale - or rather the lack of it - was made public yesterday in a damning report by France's prefects, the country's top administrators.

"The French no longer believe in anything," the report said. "That is the reason that the situation is relatively calm, for they believe that it is not even worthwhile expressing their opinions or trying to be heard any more."
They no longer believe in anything? Their entire intellectual lives are spent convincing themselves that nothing is worth believing in. This is the very essence of secular existentialism. If you spend your entire intellectual life declaring truth to be subjective and relative, that there is no reality but what your own senses perceive thereby reducing life from one banal sense perception after another; life is accidental, meaningless and ultimately hopeless; then declare all your problems to be caused by imbecilic powers greater than yourself (the US) it would be little wonder you would have problems getting out of bed in the morning.
Do yourselves--and maybe the rest of us a favor--put down the Voltaire, Sartre, and all that other existentialist crap and realize some things are worth fighting for because right and wrong, good and evil are real things. Along the way you'll discover courage, truth, charity and happiness. It's not such a bad bargain really.
(Hat tip: Little Green Footballs)
Since We're Talking About Knowing Right From Wrong...
From The American Spectator we read an article entitled, Levels of Discomfort. Essentially it talks about how best to extract actionable intelligence from terrorists. But within this pragmatic discussion is a single sentence with far reaching implications:
We know, from captured al-Qaeda training manuals, that al-Q terrorists were trained in the limits of American interrogation.

This statement and dozens like it have passed our minds for so long that we have become inured to their implications. We heard about Saddam placing anti-aircraft weapons on top of hospitals, weapon caches found in schools and mosques, and now Iranian nuclear research facilities underground beneath civilian housing complexes. Now we learn the al Quaeda is aware we are loath to use torture to extract information so they tell their operatives, "if you can just hold out long enough the Americans will give up."
"Well, of course," we say reflexively without reflection. "They know we'll never attack sensitive sites or deliberately violate human rights." Wrong, what they know is that we're the unequivocally the good guys. For all the posturing by the jihadists about Allah's laws, sharia and fatwahs they know who actually believes in Justice and operates under It's purview. They know full well that hiding weapons among civilians is wrong, they know torture is evil; but they also know what works.
When the President speaks of all humanity being morally conscious of the concepts of freedom and justice this is one of the moral principles to which he refers. This principle is not only cherished by freemen and craved by the oppressed it is corrupted by evil men for their own gain. The only reason Saddam's torture chambers held sway was because all humanity knows what it means to be violated and abused. Tyrants exploit our sense of goodness. Evil is not the opposite of good; it is the privation and corruption of good. For example, we call intellect good but we cannot call its mere absence evil unless we call common sticks and stones evil. What is evil is when men pervert their ordinarily good intellects so as to devise the means to afflict us with sticks and stones. Thus it becomes all the more heinous when those who offer quasi-racist opinions about Arabs not being ready for democracy assign the terrified masses the unsolicited label of masochists they simultaneously deny our common humanity.
Yes, they are the victims of centuries of despotism and the devil you know is sometimes better than The Great Satan you don't know but as the first inklings of freedom percolate through the Middle East it stirs within the people an essence more primal than human life itself. Witness how the average Iraqi eagerly awaits the January 30 elections. The President remains "stubbornly" on course because he is, as best as mere men are able, seeking after what is Good. Good is stubborn but that is only because it is eternal, omnipotent, transcendent and omnipresent and it will not have it's will denied. We get to choose daily, even minute-by-minute, as to whether we wish to join the Good our separate ourselves from it.
Get it?