What's NOT Funny
Snuggle Bunnies are all in favor of cute and funny, but not when it cheapens the suffering of millions of people.
If this isn't funny (and it ain't)...
...then neither is this...
...snd this is the product of a truly sick mind.
Now some will say, "But Mr. Snuggle Bunny, you just posted a series of pictures making fun of a prisoner of war being humiliated by US troops. Aren't you being hypocritical?"
No, I am not.
The man in the pictures was not a prisoner of war he was an unlawful combatant violating every tenet of land warfare (no governing nation-state, no uniform, not openly carrying a weapon, deliberately attacking civilians and civilian structures, etc. etc. etc). The conduct against him was unprofessional and wholly lacking in pragmatic intelligence gathering value...but as long as we have the photos.
Most importantly he was merely being humiliated--as he should be. Racists of every stripe should have their views humiliated. Who wouldn't pass up the opportunity to heap scorn and ridicule on a Nazi, or a Klansman or a Stalinist? Same difference.
And just in case you need a refresher course...
Doing this in the American military can get you 38 years in prison doing hard labor with no time off for good behavior.
Doing this in the Arab world makes you a folk hero.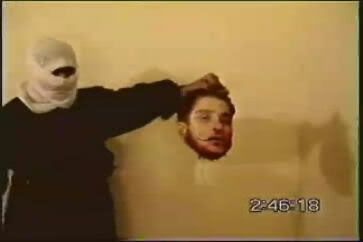 Get it?